Latest news
Contact us
ADD: 2405 Fay Street #M156 Durham, NC 27704 United States
TEL: +8613798128916
FAX:
E-mail: CustomerService@Genround.com

> DIY & Tools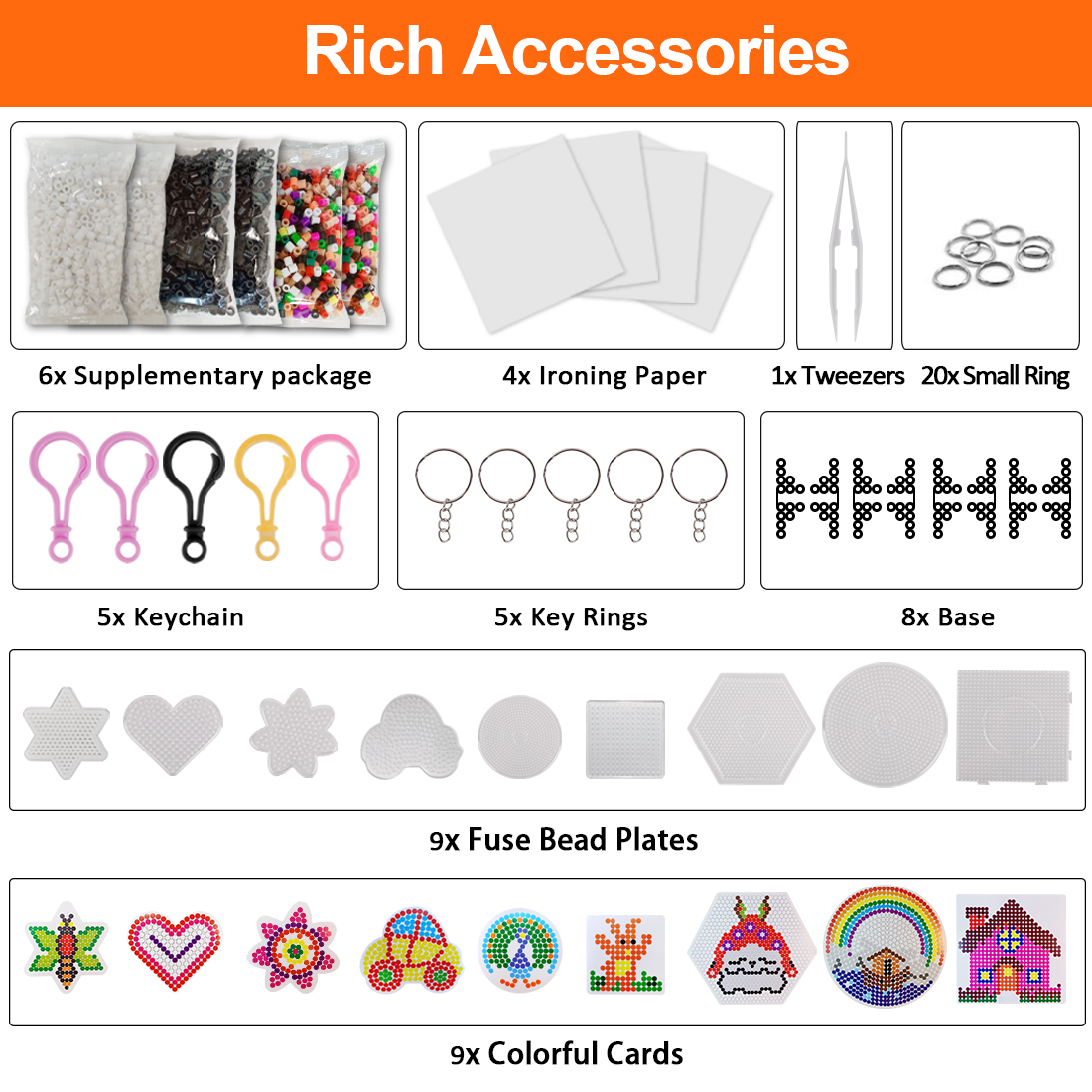 Genround Fuse Beads Set
Product description: 16,200 pcs Fuse Beads, Genround 48 Colors Fuse Beads kit for Kids Including Fuse Beads Supplement, Pegboards, Patterns Cards, Ironing Paper, Base, Key Ring, Keychain, Iron Rings, Tweezer
Product introduction
Please click the link to buy
https://www.amazon.com/dp/B07V7DRVJH?ref=myi_title_dp
✿【Complete set of fuse beads】It contains all materials you need:16,200pcs 48 colors 5mm perler fuse beads including 2 storage boxes and 6 packs supplement beads (black and white plus color), 9 pegboards, 9 patterns cards,4 ironing paper,4 base, 5 key ring, 20 iron ring, 5 plastic ring, 1 tweezer and description. All accessories are included.(no iron)

✿【Safe and reliable】 The Genround fuse beads in the set are made of 100% food grade EVA. It is safe, non-toxic and odorless, and will not cut hands. Compared to smaller beads, the size of 5mm is more suitable for children over 5 years old or novices.

✿【48 color large capacity beads】 With 48 colors of 21000 beads, the large capacity allows you to create more artworks with confidence, and also comes with complementary beads. Two 24-cell storage boxes make you no longer have to worry about messy beads and easy storage.

✿【Easy to use】 The operation is very simple, just need to place the beans of the corresponding color on the board according to the pattern, and then iron the ironing sheet to complete the work. Even children or newcomers who are just getting started are very easy to understand and operate.

✿【Funny handmade DIY toys】 You can use your imagination to create a variety of colorful pixel art crafts,brilliant designs and decorations. This toy is also very suitable for children, it can help children improve their hands-on ability and thinking ability. Create it with your child, this will be a good time for you and your child.24-hour mail customer service - refund or exchange if there are any quality issues.